How to Paint Red Hair in Watercolor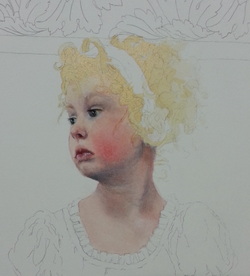 1. The hair is loosely drawn in with pencil. She has a hairband, so I drew small tendrils around the band and her face. If you need to do a bit more planning, then draw in the curls in more detail. I then wet the area and dropped in a wash of Gamboge (all colors in this tutorial are M Graham, unless otherwise stated)

---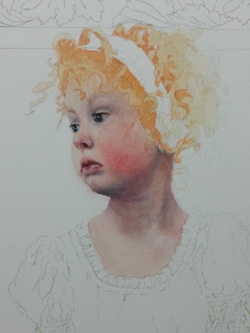 2. Keeping in mind where my light source is (from the upper left) I used Schmincke translucent orange in the shadow areas and didn't bother to soften edges except around her face. After the paint was thoroughly dry, I used masking fluid to define the small hairs around her head and those that lay against the hairband.

---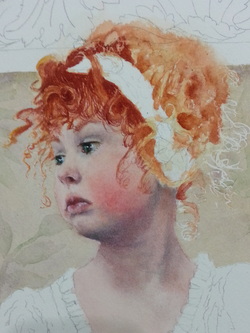 3. Because I had used masking for outside hairs, I finished this part of the background first. The whole figure can be seen on the "Paintings in Progress" page.
After the background was dry, and the masking removed, I began dropping in quinacridone burnt rust trying to save some of the yellow and orange areas as highlights. While it was still damp, not wet, I added maroon perylene. It's a great color; sort of a cross between alizeran crimson and burnt sienna or the burnt rust. It's blood red.

---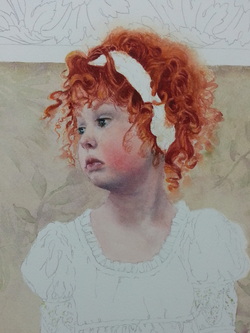 4. Continuing to mold the curls, dropping in the darker color in the shadow, I added a mix of ultramarine blue and quinacridone burnt rust for the darkest areas. I find that a synthetic brush is handy for defining hair. The smaller the hairs the smaller the brush.
I didn't like that one lone curl down her neck, so I painted in a couple of friends for it. Her coif is a different shape than when I started, but I like it better now.

---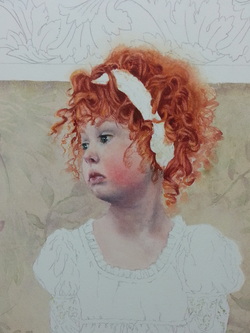 5. After she was dry, I used a small thirsty synthetic bright (straight edge) to tease out the highlights and give her curls more shine and definition.
One new thing I added: Used a very wet round to "paint" squiggles with water, then dropped hair color here and there, lifted the board and let it run, then laid the clean damp brush at the end of the drip and spread it out to nothing. It worked best on the left side of her head. Actually, it's the right side of her head, the left side of the painting.

---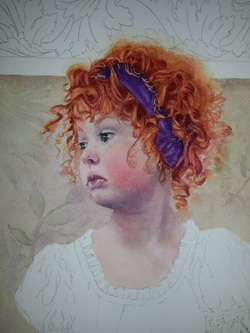 Here is Regency Miss in her purple head band. Once the band was painted and the paint dry, I rubbed away the mask and painted the hairs.
I hope this little tutorial has helped you to paint red heads in watercolor and that you have some fun doing so.

---